| | | | |
| --- | --- | --- | --- |
| More Prophet Mohammad Death Threats | | | |
Written by Kate Delaney
Wednesday, 14 July 2010 12:49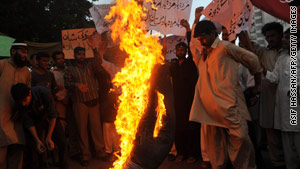 Molly Norris a Seattle cartoonist had no idea what she was in for when she drew a cartoon about the Prophet Mohammed and set off a controversy in April publishing it online. Then there was the imaginary goup called "Citizens Against Humor" she came up ultimately proposing an "Everybody Draw Mohammed Day" on May 20 this led to a Facebook page that enraged many Muslims.
The FBI warned Norris about death threats made against her by radical cleric Anwar Al-Awlaki who has ties to Al Qaeda. Specifically terror suspect al-Awlaki wrote that Norris, "Should be taken as a prime target of assassination." Pakistani Muslims picutured above burn an effigy of the cartoonist during a protest in May in Karachi, Pakistan.   
Norris said the consequences of the drawing were unintended. "I wasn't savvy," She said she didn't mean for her satirical poster to be taken seriously. Too late now just ask the Danish cartoonist who lives in fear of his life every single day after his drawing of the Prophet Mohammed. 
Last Updated ( Thursday, 15 July 2010 14:27 )