| | | | |
| --- | --- | --- | --- |
| Pat Downs, Political Punch and a Prince | | | |
Written by Kate Delaney
Tuesday, 16 November 2010 15:36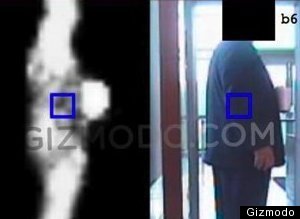 How many times has someone from the TSA or Janet Napolitano assured that the images from the Body Scanners would not be stored. What is this then? Gizmodo, which picked them up through the Freedom of Information Act leaked one hundred of the images like the one above. Come on Janet get it together. More on the pilots and their fight to avoid pat downs tonight with Airline Security Expert Denny Kelly.
Bye Bye Charlie. On the hill the watercooler buzz what's next for Congressman Charles Rangel? He once was one of the most influential House members now he's been convicted on 11 counts of breaking ethics rules and faces punishment. An ethics panel of eight House peers deliberated over two days before delivering the final punch to the 20-term New York Democrat's career. Rangel was charged with 13 counts of financial and fundraising misconduct.
Normally we don't care about the Royals but it's worth a quick note on Prince William who is newly engaged to Kate Middleton. The ring was Princess Diana's..nice touch William. A few quick program notes don't forget about Nail the Score being moved to Wednesday in our third hour this week and next. Once we announce the game of the week in the NFL all you have to do is call at 800-259-5791 and predict the winner and the score. A huge show tomorrow as we'll be speaking with Homer Hickam on dinosaurs and those mysterious contrails he doesn't buy that it was a plane and remember the well known author is a former NASA Engineer. Also Ann Louis Gittleman she's written a book called Zapped an expose on the hazards of everyday electromagnetic exposure from cellphones, laptops and a slew of other wifi devices. You won't want to miss Gittleman who has a real story to tell after she developed tumors in her salivary glands and traced it back to excessive cell phone use. Get off the phones and don't use it as an alarm.
Last Updated ( Sunday, 21 November 2010 18:31 )